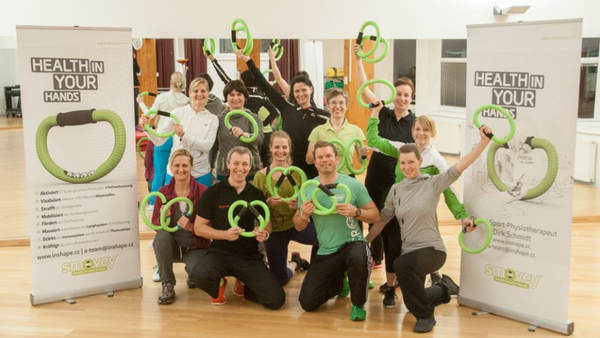 Smovey Coach Certification Course
Regular price
Sale price
$297.00
---
Location: Individual arrangement (Please call or email us)
Duration: 10 AM to 6 PM
Dates:  Individual arrangement (Please call or email us)
How Will My Clientele Benefit?
Accelerates metabolism, strengthens the cardiovascular system, and encourages weight loss
Detoxifies by massaging and relieving the lymphatic system
Improves the immune system and the work of the thymus gland
May reduce symptoms related to neurological disorders such as Parkinson's, Multiple Sclerosis (MS) and more
The Smovey can be used standing or seated, indoors or outdoors, or in a pool
Your clients will feel like a kid again! It is nearly impossible for your clients not to smile while using the Smovey
How Will I Benefit as a Practitioner?
Add variety to your clients' workouts by using the Smovey as a warm-up, full program, or as a group class
Get take-away programs including advanced cardio workouts for weekend warriors and balance programs for kits and seniors 
This light-weight tool is easy to carry for mobile trainers
Provide your clients with a cardio training option that can be made low-impact and easy on joints
Become one of the first Canadian Health Care Practitioners to use the Smovey which has been hugely successful in Europe for over a decade!
Health Benefits of Smovey Vibroswing-System
Introduction, Basic Moves, Seated Positions
Typical Mistakes and Considerations for Special Populations
Advanced Balance, Coordination and Interval Training
Smovey Deep Relaxation-Passive Treatment (lying position)
Marketing Smovey Vibroswing-System - How to Get Started
Practical Test (Small Group Demos)
8 hour instruction in theory and practice
Certification (dependent upon passing Instructor Certification Exam)
Exclusive, discounted pricing for the Smovey Vibroswing-System (dependent upon passing Instructor Certification Exam)
Ability to present the Smovey Vibroswing-System with clients of all ages and abilities the very next day
Smovey Vibroswing-System will be available for your use
Packed lunch, Sport Shoes, Yoga Mat, Towel, Workout Clothing
​
Master-Instructor: 
Gernot Faderbauer
Passionate in building a better future with health & fitness, Gernot became the owner and Master-Instructor/Therapist of Smovey CANADA. He is also a 3 time World Champion and an Olympian Rower with over 20 years of experience in Coaching and 35 years in Athletics.